The english soccer games for euro 2012 is on, it means 16 teams play 18 matches are played to the hosting countries of Poland and Ukraine.
The host cities
Warsaw
,
Gdańsk
,
Wrocław
,
Poznań
,
Kiev
,
Lviv
are all popular tourist destinations, unlike
Donetsk
and
Kharkiv
(the latter having replaced
Dnipropetrovsk
as a host city in 2009)
As a English supporter I guess I am looking forward to see if England is going to beat
Ukraine in the group eliminations on 19th june.
After which its only 12 days to the final. England beat Sweden 3/2 but they need to get a draw with Ukraine to qualify to the semi finals. Or even better a win to avoid the world champions Spain in the next round. The odds look good at 6/5 for an England win or a 12/ 5 for a Ukraine win.
Boosting England's chances might be a a simple affair of having conjugal visit with the players wives and girlfriends. Already Roy Hodges have allowed visits as a reward for the Sweden win.
Earlier things on Sunday escalated as Russian fans and polish fans came to ahead with small pockets of violence breaking out on the streets of Warsaw. The Russian football association had been fined $37,800 for improper conduct and a further $150,000 for fans attacking stadium staff at their first visit to the Czech republic. historically there has been tensions on both sides, including decades of control by the Russians though out the cold war. Or that polish have a better standing with NATO then Russia. Many people thought it shouldn't of started with Polish officials allowing Russian fans marching down in groups in the streets of Warsaw.
Polish culture seems open and friendly, though it is the opposite when you look into their culture of football.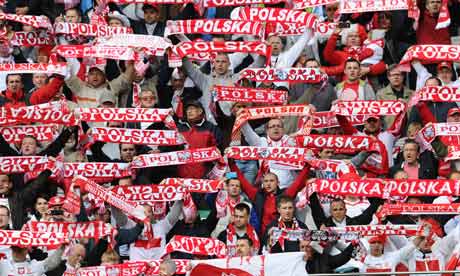 During some normal league matches there can be abundant signs of rascistism. Mostly anti Semitic chants and hatred for the jews. Its embarrassing enough that such a small country has a long history of football hooliganism. But now that UEFA has chosen Ukraine and Poland to host the european matches some eyes will be focused on the matches but with one eye looking to see if the violence will escalate. Croatia has been charged a fine already for racist chants with their match against Italy. It seems that containing the fans will always be issue.
Both Ukraine and Poland have allowed such public displays of hatred in the form of racism go unchecked. I would say if I was to visit as a fan I probably avoid going altogether. Football is supposed to be a family entertainment and wholesome in its footing as a sport. But in small countries the same game has been applied to recruit youngsters for a growing semi political extreme view point.
In an ever watchful eye for signs of the future, if economics break down occurs or if law and order is upheaved. Watch for the strong gangs because when government fails these are the next best thing.
As a semi interested football fan, I will watch the England matches with some enthusiasm. But will be half watching with a beer in my hand. I don't really go in for the politics, or the underlying issues as to hooliganism. Its seems clear football has a long way to go in becoming a wholesome game. Until then football will be a spectator sport hosted in the comfort of my own home or with friends.