The properties of liquid nitrogen make it ideal for Freezing and transport of food products, Cryopreservation of biological samples, Coolant for superconductors, Cryotherapy, Shielding materials from oxygen exposure and Cooling materials for easier machining or fracturing. In a culinary research laboratory, chefs use this ultra­-cold liquid to cryopoach oils, cryoshatter cheese, cryopowder herbs and cryograte meat. It is great for making instant ice cream and perfectly cooked hamburgers. For many years the coldest substance chefs had ready access to was dry ice (frozen carbon dioxide), which sublimates directly to CO2 gas at –109 degrees Fahrenheit. Although dry ice has some interesting culinary uses, its solid form limits its utility.
Chef Heston Blumenthal has popularised the use of liquid nitrogen in cooking, using it to make food including ice cream. In cocktails it is usually used to freeze ingredients, to chill glasses or as a visual gimmick.
The Food Standards Agency (FSA) says bars, pubs and clubs have a legal obligation to make sure anything they serve to the public is fit for human consumption. The FSA's Colin Houston said: "There are safety and handling guidelines around the use of liquid nitrogen, especially in relation to food. "It is the business owner's responsibility to make sure that their staff have been trained and are aware of the potential risks of using liquid nitrogen."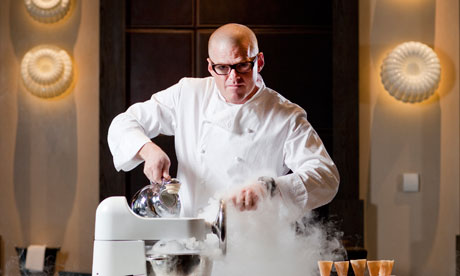 My guess is that this type of specially prepared drink has not been checked out by experts and that bar staff are not properly trained well to handle hazardous material. Considering that any food and drink must meet with high standards, there doesn't seem to be any proper formal training processes when handling Liquid nitrogen. To use such materials for trivial purposes can lead to many accidents especially in the food and drink trade where many things are prepared quickly. The stress levels of kitchens and cocktail bars are much higher then Cryogenics labs, which could lead to over looked safety protocols. In the end I hope this type of cold temperature gimmick is dropped from the menu, and that bartenders and chefs alike can stick with basics...